Luxaeterna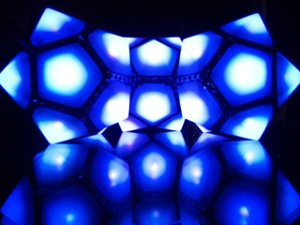 Luxaterna is a light sculpture constructed from WS2822S LEDs embedded in pentagonal PCBs (i.e., BlinkyTiles) and controlled with an Adafruit Metro Mini. Arduino/C++ and FastLED allow cycling through a series of patterns and colors.
Pre-recorded
Livestream
During the week of 30 August - 6 September, 2020, this page will (intermittently) display or provide access to a live stream video of Luxaeterna. However, at various times other objects may be displayed; these might include bones, shells, a stone lizard, a glass turtle or anything else that seems interesting. Hopefully, Luxaeterna, along with similar constructions will be displayed on playa in 2021. Time will tell.
Inspiration for Luxaeterna was provided by Bunnie Huang's masterpiece, Polyhedrone, which I had the pleasure of seeing in 2017, and Solcrusher, two much more ambitious projects.
Page created with Atom
Wordpress blog
GitHub repositories